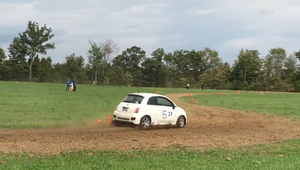 SCCA Rallycross - October 2019
A couple weekends ago I got the opportunity to give SCCA Rallycross a try with the North East Ohio SCCA Chapter. My race car of choice: a 2013 Fiat 500 Sport.
The day began early that morning, I arrived at the track (an empty field at a fairground) and immediately unloaded all my stuff. This was my first rallycross event, so I brought things I thought I might need: a jack, jack stands some basic tools, and a portable electric tire pump. Next time I will remember to bring a folding chair, and perhaps a pop up canopy in case of rain. If you're not familiar with SCCA Rallycross or Autocross, any loose objects need to be removed from the vehicle in order to pass tech inspection. I removed all floor mats, loose change, and broken aux cables the night before.
After everything was removed I drove to tech inspection, where they looked the car over, tightened one of my battery terminals (oops), and placed an orange sticker on the corner of my windshield to signify that my car was ready to race.
I was the first car on the coarse, which at that point was a wet grassy field with some cones. My first time was a slow 62.991. I was overly cautious (again, my first time ever driving competitively offroad). My next time was a still slow 52.666, but by my third run I was down to 49.720. As more runs were completed, the grassy field was ripped up into a well defined dirt track, with ruts forming, and some rocks being uncovered. For the second round of heats I was starting to get the hang of things. I saw steady improvement with a 47.409, 47.010, and 47.209. I was determined to get below the 47 second mark, and for my last round I put in a 45.851.
5th place in my class of 10 cars was where I finished, which I am very happy with. For it being my first time giving rallycross a shot, and my car having by far the least amount of horsepower in my class, I feel that I performed quite well. I have identified several areas that I could improve on, and I think that I could compete for a top three finish next time.
Rallycross is scored by adding up all of your run times into one cumulative time. Mine was 289.865 seconds. The winner of my class had a cumulative time of 267.583 seconds. Needless to say, my first three runs killed me. While others who had done this before were relatively consistent right from the start, I took three or four runs to get used to the surface and start to narrow in on consistently good times. I had an absolute blast though, and you bet I'm gonna try for a better result next time.
Obscura parts used:
This car is very mostly stock. While we use this car as a test mule for our modern 500 parts, the only aftermarket parts on the car at the time of the race was our Sport Rear Shock Absorber Kit. We used Bridgestone Blizzak Winter tires, mounted to a set of cheap Sport Edition brand wheels. A set of Rally Armor mudflaps added some protection against stones and dirt. This car also had a rear muffler delete, which sounded pretty decent on the course (still one of the quieter cars there). Of course, to make the car look the part, we also added our Fiat Rally Decals on the hood and hatch.
---